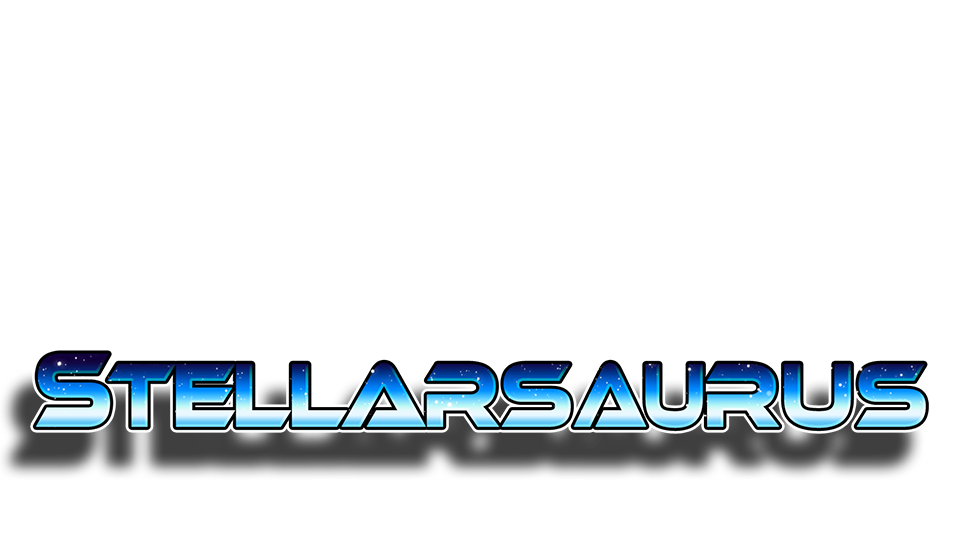 Stellarsaurus
A downloadable game for Windows, macOS, and Linux
SHOOT DINOSAURS, YOUR FRIENDS, AND YOURSELF IN A BID TO SURVIVE!
Play as a top marine in the super secret army of [REDACTED] who prepare for any combat scenario. Today's training regime is 'Stellarsaurus: Dinosaurs from Outer Space'. Fight your friends and the incoming waves of space dinosaurs for your chance to prove your strength!
A competitive party arena game in which the players fight each other and the incoming waves of space dinosaurs for survival.


- HOW TO PLAY -
Stellarsaurus is a PvP game which can be played with 2-4 people. A single keyboard can have 2 people playing (only works with keyboards containing a num pad), but additional controllers are needed for more people. Note: Any controller works.

| | | |
| --- | --- | --- |
| Conrols | Keyboard | Controller (Xbox) |
| Move/Aim | WASD / Arrow Keys | Left stick |
| Jump | Space/Num 0 | A |
| Pick Up / Throw | K / Num 5 | X |
| Shoot / Charge Weapon | J / Num 4 | Right Trigger |
| Fine Aim | Shift / Right Ctrl | Left Trigger |
| Pause | Esc / Home | Start |
"EARLY ACCESS"
Stellarsaurus as it stands is being made for a university project by 5 people semi-full time - meaning we have to think a lot about scope and time management. This means that many features (like online play) will be likely added post launch depending on our success during this stage of development.
Check out our Beta release notes here!
PLANNED CONTENT
Since we've hit our Beta, that means that all major content that we want to have in the game is now in! Nothing new is planned for the final release as our new focus is refining the things we already have and fixing any bugs. We have a couple of small ideas which we will try to squeeze in before then however, so stay tuned for more updates as we approach the finish line.
FEEDBACK
This game is currently in development. Any and all feedback would be greatly appreciated! We have a new feedback form here that you can use, or you can also send us a message on one of our social media platforms (not to mention the comments section directly below).

| | |
| --- | --- |
| Status | In development |
| Platforms | Windows, macOS, Linux |
| Authors | PixelBlastOfficial, CedarBishop, Max H, Xcelgamer, ivankaryakin, rickywjr |
| Genre | Action, Shooter |
| Tags | 2D, Arcade, Dinosaurs, Funny, Local multiplayer, party-game, Pixel Art, Sci-fi, Space |
| Multiplayer | Local multiplayer |
| Player count | Singleplayer |
Comments
Log in with itch.io to leave a comment.
I like your game page, the graphics and typography look sweet.
Thanks! We took a lot of inspiration from 'Project Feline', it's definitely a great case of good page design.